Welcome to a new life!
The walls of our apartments offer a window into the many stories and life projects of our renters... Meet Hamza, newly married, for whom a new home also means a new life.
"I was about to sign a contract for another apartment in Jette," explains Hamza. "Then I happened across Felicity's presentation on a property site, and I fell in love with the photos straight away. I quickly booked an appointment and my first impression confirmed my feelings. I didn't hesitate at all," he says, smiling.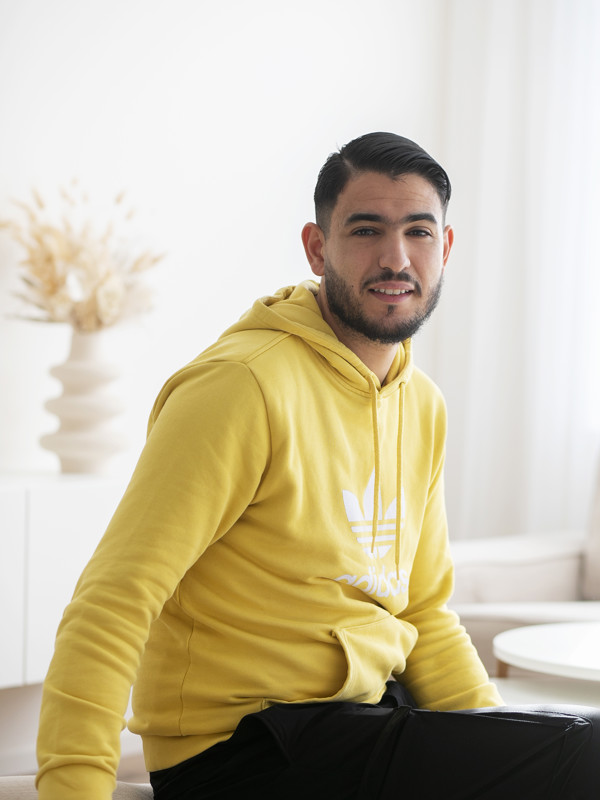 "I feel like I'm on holiday every day…"
What made Hamza 'fall in love' was the choice of materials and the quality of the finishings in his apartment. He also really enjoys the quiet, enclosed spaces.  "It's like being in Laeken and somewhere else at the same time. Every night, I go to bed looking forward to the view I'll see over the inner courtyard in the morning! I feel like I'm on holiday every day," he enthuses.
Transport connections
Another element that convinced Hanza, who works in Brussels, was the transport connections. He loves being able to choose between the bus, metro, tram… or bike. "I tested it out during the Car-Free Sunday, and you can get around really quickly, especially since there are cycling lanes everywhere." He can ride his bike from the bike storage room to the city centre in 12 minutes flat. As for his future wife, she drives to work at Zaventem Airport. "That's really quick, too, along Avenue Houba de Strooper and then onto the ring road."
"I'm already dreaming of brunches on the terrace on summer weekends
29 October will be the big wedding day. For him, "This apartment also symbolises a new life!" He wants to keep the minimalist style which comes from the layout of the volumes and the big white walls. And the second bedroom? "We are very much hoping it will one day be a nursery… but in the meantime, we'll use it as a dressing room and a gaming room. I must admit, I'm a bit of a gamer!"
Hyperactive
Anything to add? "The terrace, of course. I didn't have one in my last apartment. It made lockdown really hard for a hyperactive person like me," explains this man who volunteered to give out food parcels to people in need. "I'm already dreaming of brunches on the terrace on summer weekends. I've been telling my friends all about it – they're all expecting an invitation."